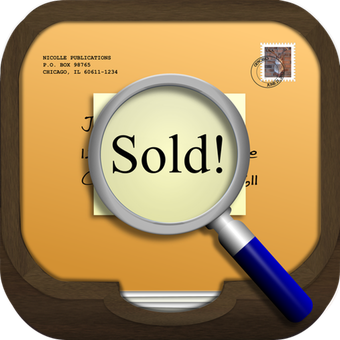 Track story submissions on your Mac!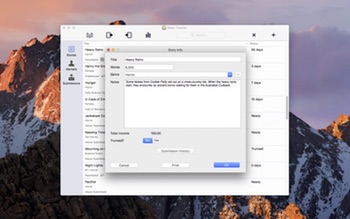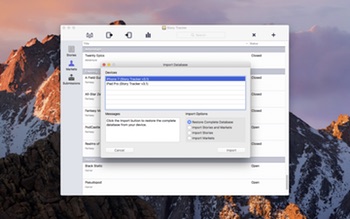 Reviews
"The user interface is what makes this app great. The ability to view your data by story, market (publisher), or submission brings a level of flexibility and organization that you can't get from a spreadsheet or task management app." – AppStorm
"As a writer, I found StoryTracker to be a simple and useful tool. You won't have to struggle with creating your own database (which I've done in the past), and may simply focus on what's important: entering the data." – AppModo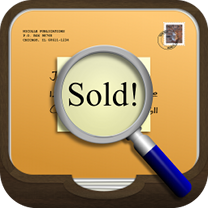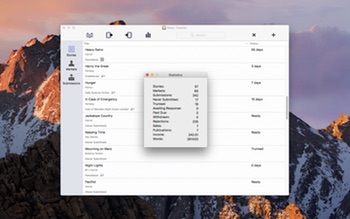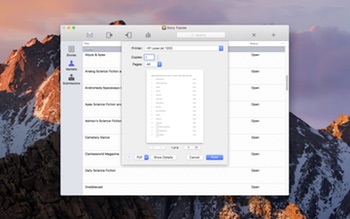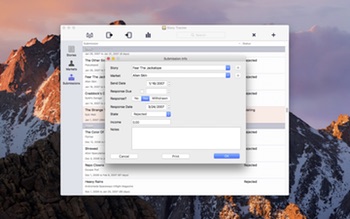 Story Tracker makes keeping track of your submitted stories, novels, poems, scripts, and articles easy. Never wonder again where or when you submitted your work. The information is all right there on your Mac!
Whether you're a working freelance writer, a hobbyist, or something in-between, Story Tracker is a valuable addition to your writing toolbox. Many magazines, journals, or other markets for your work don't allow simultaneous submissions. When you're juggling dozens or even hundreds of stories, it's easy to make an embarrassing mistake. Keeping track of it all can soon become a nightmare.
Want to track your writing submissions on the go? Transfer your database to and from Story Tracker on your iPhone, iPad, or iPod touch (available on the iOS App Store).
Looking for the Windows PC version? Learn More…
System Requirements: Mac running Lion (OS X 10.7.x), Mountain Lion (OS X 10.8.x), Mavericks (OS X 10.9.x), Yosemite (OX X 10.10.x), El Capitan (OS X 10.11.x), Sierra (macOS 10.12.x), High Sierra (macOS 10.13.x), Mojave (macOS 10.14.x), Catalina (macOS 10.15.x), Big Sur (macOS 11.x), Monterey (macOS 12.x), Ventura (macOS 13.x), or Sonoma (macOS 14.x)


*** OR ***
The download version is initially in an unregistered trial mode, limited to 5 stories, 5 markets, and 5 submissions. It will also only allow a single database window, and database import is disabled. Purchasing a license either within the app or via the Web Store unlocks full functionality.
Here's what you can do with Story Tracker:
Track submissions of all your writing: stories, poetry, novels, articles, scripts, screenplays, and more.
Store details and guidelines for any market accepting written submissions: magazines, book publishers, journals, agencies, websites, movie studios, or even one-off writing competitions or anthologies.
Check the status of your stories, markets, and submissions at a glance.
Use the search field to search story, market, and submission lists to quickly find what you're looking for.
Sort stories and markets by title, genre, or status, and sort submissions by date or status.
Add details for each story, including title, word-count, genre, and notes.
View total income earned for each story.
'Trunk' stories to hide them from the story list when creating submissions.
View the submission history for each story or market.
Add details for each market, including title, genre, editor and more.
Markets approaching deadline are highlighted with an orange/red background on the market list.
Launch market websites or your email app directly from the market details screen.
Closed markets are hidden from the market list when creating submissions.
View response times for each submission.
Add details for each submission, including story, market, and sent/response due/response dates, withdrawn status, income, and notes.
Response due dates are calculated automatically based on market response time and submission sent date, or can be overridden.
Past due submissions are highlighted with an orange background on the submission list.
Track database statistics.
Saves changes automatically.
Retina graphics support.
Print story, market, or submission lists, or information for a particular story, market, or submission.
Database import and export over WiFi to Story Tracker on your iPhone, iPad, or iPod touch.
Import / export via CSV format to transfer your Story Tracker database to and from desktop spreadsheet applications.
Privacy Policy
Andrew Nicolle is a strong believer in a user's privacy. No personal information is collected by Story Tracker. Whatever data you enter into Story Tracker is kept locally on your own computer. Andrew Nicolle has no access to your data or any personal information unless you explicitly choose to share that information via email for the purpose of support. In such a case, only a single developer will ever see the shared data and information, and only in order to provide the requested support.
Your data is neither shared nor collected outside of Story Tracker, unless you explicitly share your data outside the app.
Story Tracker allows you to share your data through various means, including with the iOS version of the app over WiFi, to other computers, via email, or through other third-party services. This shared data is not encrypted.
What's new in the version 1.6 update:
Note: This version requires macOS 10.9 or higher (Mavericks)
Updated for macOS 11 (Big Sur).
Updated for Apple Silicon Macs.
Updated app update framework.
Updated crash reporting framework.
Bug fixes.
Version 1.5 update:
Version 1.4.1 (Mac App Store version only; Web version unaffected):
Fixed Snow Leopard startup bug.
Version 1.4:
New user interface.
Added a Preferences setting to sort markets by deadline.
Deadline dates are now shown on the market list.
Bug fixes.
Version 1.3:
Reduced font size on printed output.
User interface tweaks.
Bug fixes.
Version 1.2:
Clicking on the app icon in the dock will now load the most recently opened database, or an Untitled database if the most-recent list is empty.
Added 'character' pay rate unit for Markets.
Bug fixes.
Version 1.1.1 (Mac App Store only)
Fixed data loss bug when the default Untitled database is used (this issue was not present in the direct-sale version).
Version 1.1
Added section headers for the Story and Market screens when sorting by Genre, and for years on the Submissions screen.
Implemented SDBI (Story Tracker iOS database) import and export.
Implemented multiple selection and deletion of list entries.
Deletion alert is now displayed even if the Story or Market doesn't have corresponding Submissions.
Added prompt to confirm deletion of submissions.
Customized toolbars are now automatically saved.
Window frame and position is now auto-saved for every database.
Updated format of number fields in printed output to match Story, Market, and Submission Info windows.
Enabled thousands separators for all number fields.
Dates in printed output now match the date format shown on-screen.
Empty date fields are now left blank rather than showing today's date greyed-out.
Tables now scroll to the first row when changing column sort order.
Wood texture on the side of windows now resizes properly on Mountain Lion.
Fixed bug where devices would remain in the import or export device list even after the mobile app disconnected.
Fixed bug where the database export progress bar would remain on-screen even after a transfer error occurred.
Fixed CSV export truncation bug for languages other than English.
Fixed CSV import bug where multi-line fields weren't being handled properly.
Fixed visual artifacts that would sometimes appear on the edge of table rows.
Fixed Submission History table refresh bug.
Fixed scaling bug on the Statistics window.
Send me an email at if you have any questions, to request features, or report any issues. You might also want to check out the Story Tracker for Mac Frequently Asked Questions (FAQ) page.
Join the Facebook page to discuss Story Tracker with other fans.