Track your orchid collection on your iPhone, iPad, or iPod touch!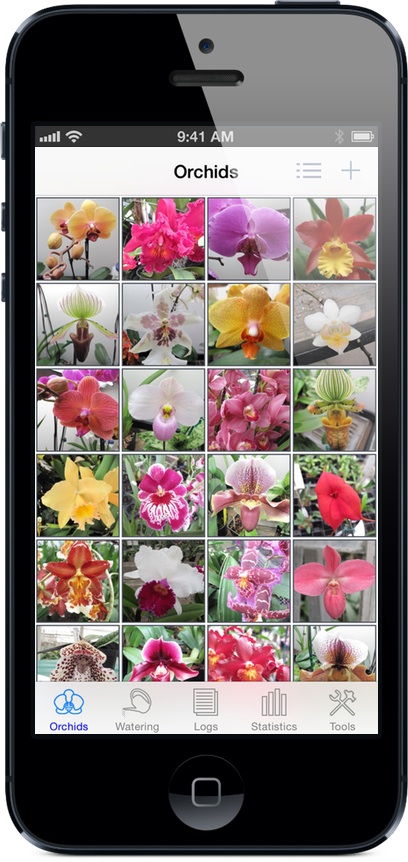 Orchid Album makes keeping track of your orchids easy. Track development of your plants throughout their lives, on your iPhone, iPad, or iPod touch!
Want to track orchids on your PC? Orchid Album for PC is now available! Looking for the Mac version? Orchid Album for Mac is now available!
Whether you're new to orchids, or an experienced collector, Orchid Album is the ideal tool for organizing your plants, watering schedules, and notes.
Here's what you can do with Orchid Album:
Record details about your plants, including botanical name, hybrid names, flowering details, fragrance, dimensions, and watering needs.
Select from over 500 botanical names (with over 100 genera), or add new names.
Track watering schedules for multiple plants, with local notifications.
Track flowering, fertilizing, and other events for every plant in dated log entries.
Create and edit log entry reminders linked to your calendar.
Add and rearrange multiple photos per plant and log entry.
Add text captions for each photo.
Scroll through photos in a full-screen gallery view, or in thumbnail form.
View your collection in table form, or by image.
View the log history for each plant, sorted by date.
Review statistics for your collection.
Protect your data with a passcode lock.
Database backup, restore, import and export over WiFi to your computer's web browser.
Transfer the complete database between devices (iPad / iPhone / iPod) over WiFi via Orchid Album ODBI-format support.
CSV format support to import / export your Orchid Album database to and from desktop spreadsheet applications.
Orchid Report export feature. View your collection on your computer's web browser. Great for keeping track of your collection for inventory or insurance purposes.
iPad support at no extra charge!
Please note that Orchid Album does not come preloaded with any photos, nor does it include any plant care information and so forth. It only tracks information and displays photos you've added yourself.
Privacy Policy
Andrew Nicolle is a strong believer in a user's privacy. No personal information is collected by Orchid Album. Whatever data you enter into Orchid Album is kept locally on your own iOS device. Andrew Nicolle has no access to your data or any personal information unless you explicitly choose to share that information via email for the purpose of support. In such a case, only a single developer will ever see the shared data and information, and only in order to provide the requested support.
Orchid Album may request access to your calendar and photo library. This is necessary to support the functionality provided by the app per user request. Your data is neither shared nor collected outside of Orchid Album, unless you explicitly share your data outside the app.
If you enable iCloud backups on your device, your data will be stored in your iCloud account. The app itself does not store data in any cloud services, except when you explicitly share your data with such services.
Orchid Album allows you to share your data through various means, including with the PC and Mac versions of the app over WiFi, to other computers, via email, or through other third-party services. This shared data is not encrypted.
What's new in the version 2.1 update:
Note: This update requires iOS 9 or higher!
Improved iOS 14 support.
Added support for Dark Mode.
Added support for new devices.
Bug fixes.
Version 2.0:
Version 1.9:
Fixes a bug with missing photo albums imported via iTunes.
Version 1.8:
Fixes a bug with adding photos from iCloud Photo Library.
More photo libraries are now visible.
Version 1.7:
Version 1.6:
Note: This update requires iOS 8 or higher!
Added iOS 10 support.
Add multiple photos at a time from your photo library.
Increased photo resolution when adding new photos.
Added Extra-Large photos option for the Orchid Report feature.
Increased photo caption font size.
Added photo sharing feature.
Bug fixes.
Version 1.5:
Note: This update requires iOS 6 or higher!
Added iOS 9 support.
Added iPad Pro support.
Added support for the Mac version of Orchid Album.
Bug fixes.
Version 1.4:
Added support for the PC version of Orchid Album.
Version 1.3:
Added French localization.
Added Italian localization.
Added German localization.
Added Spanish localization.
Added Portuguese localization.
Bug fixes
Version 1.2:
The Orchids list now shows the 'In Collection' state for each Orchid
Added a "Hide when not in collection" filter option to the Settings screen. This allows Orchids not in your collection to be hidden from the Orchid list
Added Wired and Ground Container Types for Orchids
Log thumbnail photos are now shown in the Orchid Log History list
Bug fixes
Version 1.1:
Note: This update requires iOS 5.1.1 or higher!
Added iOS 8 and 64-bit support
Support for new high-resolution iPhone 6 / 6 Plus displays
Added database transfer via AirDrop (requires iOS 7 or higher and AirDrop-capable devices)
User interface improvements
Bug fixes
Send me an email at if you have any questions, to request features, or report any issues. Check the Orchid Album Frequently Asked Questions page for quick answers to commonly asked questions.
Join the Facebook page to discuss Orchid Album with other fans.

Not sure if Orchid Album is for you? Try the
free Lite version
available on the App Store now. The Lite version allows you to store up to 3 orchids, 3 watering schedules, and 3 log entries with 3 photos each. The Lite version includes database backup and export, allowing easy upgrade to the full version. The full version has no such limitations.