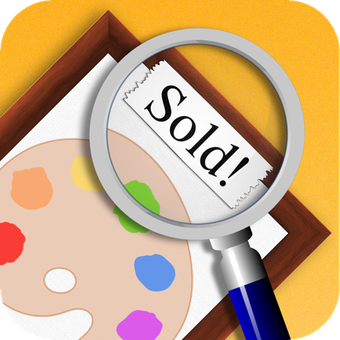 Track your artwork collection on your Mac!
Artwork Tracker makes keeping track of your art collection easy. Never wonder again where or when you submitted your art. The information is all right there on your Mac!
Whether you're a working artist, a collector, or an art dealer, Artwork Tracker is a valuable addition to your artistic toolbox.
Want to track your collection on the go? Transfer your database to and from Artwork Tracker on your iPhone, iPad, or iPod touch (available on the iOS App Store).
System Requirements:
Mac running Lion (OS X 10.7.x), Mountain Lion (OS X 10.8.x), Mavericks (OS X 10.9.x), Yosemite (OX X 10.10.x), El Capitan (OS X 10.11.x), Sierra (macOS 10.12.x), High Sierra (macOS 10.13.x), Mojave (macOS 10.14.x), Catalina (macOS 10.15.x), Big Sur (macOS 11.x), Monterey (macOS 12.x), or Ventura (macOS 13.x)


*** OR ***
The download version initially runs in an unregistered trial mode, limited to 5 artworks with 5 photos each, 5 clients, and 5 submissions. It will also only allow a single database window, and database import is disabled.
Purchasing a license either within the app or via the Web Store unlocks full functionality. After it's unlocked, this version contains the same features as the Mac App Store version, including an automatic software updating feature.
Here's what you can do with Artwork Tracker:
Record details about your artwork, including creation notes.
Add multiple photos per artwork.
Add text captions for each photo.
View photos in a full-size gallery view, or in thumbnail form.
Rearrange photos with multiple selection and drag-and-drop support.
Store client details and record contact information.
Track submissions for all your artworks.
Record details and view response times for each submission.
Response due dates are calculated automatically based on client response time and submission sent date, or can be overridden.
Check the status of your artworks, clients and submissions at a glance.
Use the search field to quickly search artwork, client, and submission lists.
Sort artworks by title, artist or status, sort clients by name or status, and sort submissions by date or status.
View total income earned for each artwork.
View the submission history for each artwork or client, sorted by date.
Clients approaching deadline are highlighted with a tinted background on the client list.
Past due submissions are highlighted with a tinted background on the submission list.
Review statistics for your collection.
Saves changes automatically.
Retina graphics support.
Print artwork, client, or submission lists, or information for a particular artwork, client, or submission.
Database import and export over WiFi to Artwork Tracker on your iPhone, iPad, or iPod touch.
Import / export via CSV format to transfer your Artwork Tracker database to and from desktop spreadsheet applications.
Drag and drop Address Book contacts or vCard files (.vcf format) directly to the Client list.
Artwork Report HTML export. View your art collection on your computer's web browser. Great for keeping track of your art for inventory or insurance purposes.
What's new in the version 1.1 update:
This update requires Mac OS X 10.7 (Lion) or higher!
Increased photo resolution when adding new photos.
Added Extra-Large photos option for the Artwork Report feature.
Added Exhibiting, Donated, and Gifted Submission states.
Info windows can now be resized.
Increased photo caption font size.
Bug fixes.
Version 1.0.3 (Mac App Store version only; Web version unaffected):
Fixed Snow Leopard startup bug.
Version 1.0.2:
Version 1.0.1 (Web version only):
Added an Address Book button to the toolbar and a new menu item on the Tools menu.
Clients can now be added via the new Address Book window, either by dragging contacts to the Client list, or by selecting them and clicking the plus button.
Improved Retina display icons.
Bug fixes.
Send me an email at if you have any questions, to request features, or report any issues. You might also want to check out the Artwork Tracker for Mac Frequently Asked Questions (FAQ) page.
Join the Facebook page to discuss Artwork Tracker with other fans.